Power Crimp® 707 Crimper
The Power Crimp 707 is both incredibly precise and incredibly simple. This was the first crimper available with a digital readout to quickly and easily indicate the current gauge setting.
When it comes to the Power Crimp 707, the hardest part of operation is pressing the button to turn it on! It will crimp just about any hydraulic hose, ranging from low pressure return lines all the way to high pressure spirals (from 3/16" to 1-1/4" I.D). It will also crimp both straight and bent tube couplings, as well as 45° and 90° block types.
An added benefit of the 707 is that it can also be
adapted for use as a power swager.
Crimps 3/16" to 11/4" I.D. hose, straight and bent tube stems
and 45° and 90° block types.
Features electronic digital readout indicating gauge setting.
Pushbutton ease to make factory-quality assemblies in seconds.
12" deep x 13" wide x 261/2" high
188 Lbs.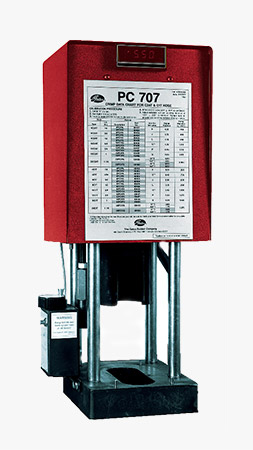 Why Invest in an In-House Gates Hose Crimping Machine?
Save Time, Money, and Hassle
By investing in a crimping machine from Gates, you eliminate the cost of driving to a hose fabrication facility; thus saving on lost revenue because of labor loss, fuel, and vehicle costs.
R&A has helped countless customers in a growing list of industries with the selection of the best crimper machine (portable or bench-mounted) for your operation, with a careful consideration for the quantity, size of hose, and the types of fittings that will be fabricated.
Why Choose a Gates Crimping Machine from R & A Industries?
Gates reputation for durability and high quality engineering is unsurpassed and all hydraulic hose crimp models feature linked crimp dies, color coded dies for easy identification, and bottom loaded design (to handle long hose assemblies if needed).
R&A Industries will provide a complete line of hydraulic hose and fittings and help you determine the inventory level that you would require.
Complete training and on-going support
Inventory stock level support
Advanced online tools from Gates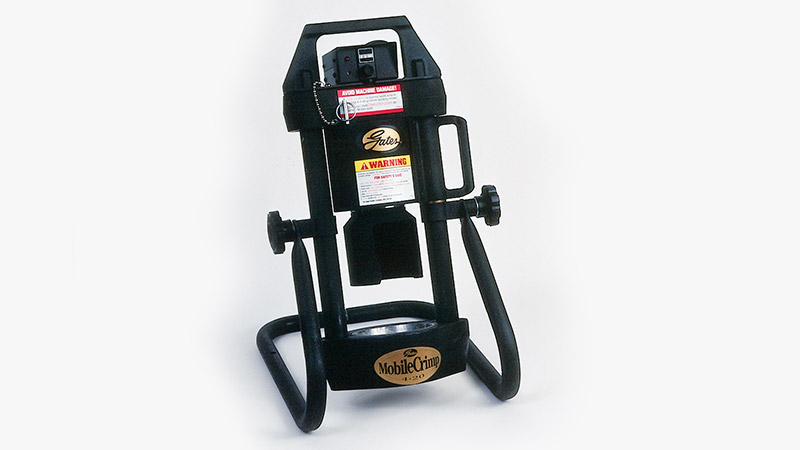 MobileCrimp® 4-20 Crimpers
When you need factory-quality assemblies, the Gates MobileCrimp 4-20 provides light, versatile, and powerful crimping up to 1-1/4" four-spiral hydraulic hose. This crimper will crimp Gates' full range of hoses, ranging from low pressure return lines all the way to high-pressure, 4-spiral hose.
With the added benefit of portability, crimping in various positions, and the ability to permanently mount the crimper on a service-vehicle – on-the-job crimping becomes incredibly convenient and simple
On top of this, its unique die design holds coupling in crimping position to free hands and prevent accidents, making the process safer and faster.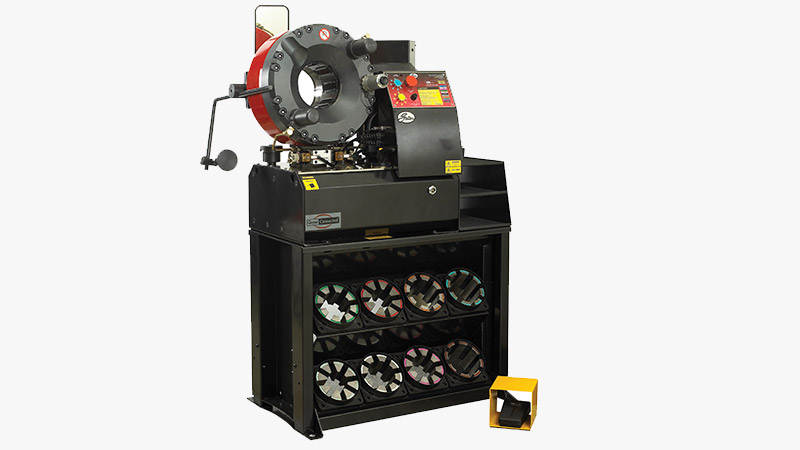 The Gates SC 32 Crimper
If you need a versatile and simple to use crimping machine that allows you to economically crimp hoses up to 1-1/4" I.D, the SC 32 crimper is available in 110V and 220V versions (both single phase).
The SC32 crimping machine is ideal for day-to-day shop and counter-top needs for a wide variety of hoses, and can also be used for up to 2", 6 spiral hoses.
The GC 32TSi Crimper
If your needs call for a crimping machine that's capable of advanced functionality and factory-quality hose assemblies, the GC 32TSi Crimper offers a range of great features that help. With functions like automatic spring-back compensation, precision crimp diameter measurement, a simple die loading system, machined die retention plates, and a self-lubricated crimper head – you can be sure that every single hose assembly that passes through this crimping machine will meet Gates' stringent specifications for quality. Add-in Gates' eCrimp™ data, a conversion calculator, user's manual, service log, and diagnostic videos and documents and you can be confident you get the performance and service you need from your crimping machine.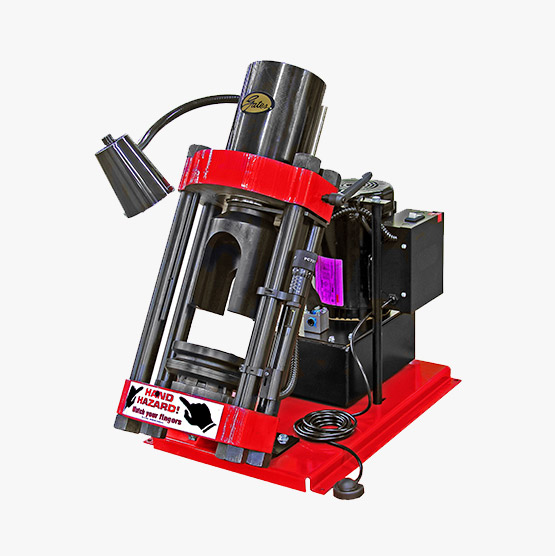 Rack and stand sold separately *Patent pending
Select hose and couplings to be crimped on control panel. Images of these components will then be displayed on tablet screen along with required dies.
Precision crimps without looking up data, adjusting crimper settings or manually measuring final crimp OD.
After crimp is complete, the crimp OD is automatically measured and displayed on screen.
Crimper will not fully retract until the proper crimp OD has been achieved.
Crimper head ratchets a few degrees after each retract to re-distribute grease.
Controller is updated where wireless internet is available, or via thumb drive.
Tracks number of crimps and when through data logging, as well as machine maintenance.
Rear-mounted camera ensures coupling is in full contact with dies prior to crimping.
SPECIFICATIONS:
Dimensions: 24" high by 24-1/2" wide by 16-1/2" deep
Weight: 660 lbs.
Power Source: 230V, 50-60Hz, single phase and 16 amps
Capability: 1/4" to 2" hose with standard die sets
3/16" (pilot line) and 2-1/2" (return line) hose with optional die sets 
Stand (Optional): 25-1/2" high by 31-3/4" wide by 16-1/2" deep (height adjustable)